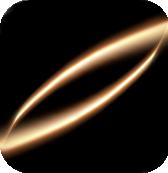 About "Fluid Light"
Fluid Light allows you to create animated art with ease.
Choose among 10 different visualization themes. Discover how to animate the various themes, e.g., by drawing a line with a finger, pinching, or tapping somewhere on the screen.
Fluid Light will animate the theme depending on your input and it will automatically synchronize the dynamic creation with a built-in epical beat.
Observe the mesmerizing dynamics of the evolving art and create screenshots with ease just by tapping an icon. The screenshots are conveniently saved into your photo album for further processing and sharing.
Fluid Light comes with the following themes:
Blossom, Fractaloscope, Derwish, LivingGold, TwinDance, Galaxy, LightWave, Particles, NeonTrance, Ornaments
There are no ads or in-app purchases in Fluid Light!
Screenshots
Fluid Light Engine
"Fluid Light" is built with Joachim's Fluid Light Engine.