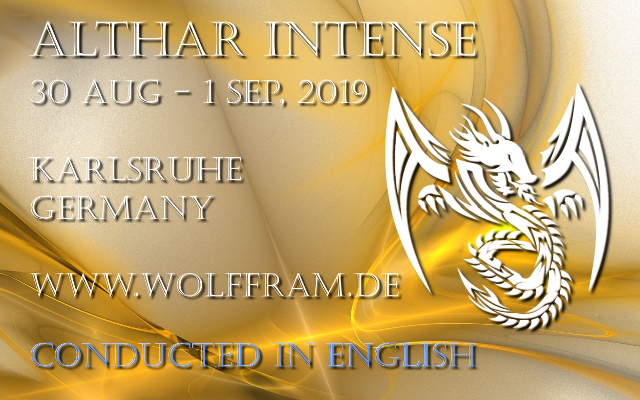 "There are favorable circumstances allowing an opening of consciousness to be easier.
This includes, in particular, when like-minded humans come together to share stillness.
There is a deep, transforming magic in the still gaze of humans which makes it much easier to let go, to enter into one's own emptiness, and also to choose to remain embodied."
Note: It is not important that you speak English! Having a working understanding of spoken English is sufficient.
This intense workshop offers the opportunity to dive deep into the discourses of Althar and to integrate them into daily life. It is an essential concern of the Althar workshops to assist in opening up to one's true self and to let the accompanying expansion of consciousness become the normal state of existence.
The main focus of this meeting will be to fully engage with pure consciousness and to allow the associated, sometimes overwhelming, effects on the human and physical level.
In particular, we will investigate the binding of consciousness to matter. It is this binding that induces major obstacles to reconcile pure consciousness with living consciously in the dream of separation – also termed embodied ascension.
Althar will discuss this topic in detail and provide means to gently release the hypnotic bonds with the physical.
Details:
| | |
| --- | --- |
| Start: | Friday, August 30th, 2019 , 15:00 AM |
| End: | Sunday, September 1, 2019, 12:30 AM |
There will be two sessions on Friday and Sunday, four on Saturday.
| | |
| --- | --- |
| Price: | 350 Euro (includes beverages and snacks) |
The workshop is limited to 12 attendees to ensure a private and intense atmosphere.

Language:
All sessions will be conducted in English.
Audio recordings of the sessions will be made available to the participants for free.

Seminar Location:
The workshop will take place in a private house in beautiful surroundings at the foothills of the Black Forest.
Liebenzeller Str. 2
76268 Karlsuhe, Germany
Located in a magnificent environment, Karlsuhe is a 70 minutes drive from Frankfurt airport (FRA). There is also a direct train connection from the airport to Karlsruhe, taking only 60 minutes.
The airiport Karlsruhe/Baden–Baden (FKB) is severed by several low-cost airlines, such as Ryan Air, Eurowings, and Wizz Air.
The airport Stuttgart (STR) is also very close.
Lodging / Food:
There are several hotels close to the seminar location.
The "Pension Schramm" is within walking distance of the seminar location.
On Sunday, there will be an optional farewell lunch.
"Now, after all these experiences, you approach your first real birth.
You are standing on the doorway to the Third Round of Creation. What an adventure!"
Workshop Registration 30th August – 1st September, 2019